Team Sandtastic
Professional Sand Sculptures
---
---- Guinness World Records ----

Team Sandtastic holds the CURRENT Guinness World Record.
Tallest hand built sand sculpture in under one hundred man hours.
~ 28 feet 7 and one quarter inches ! ~
---
As surveyed by Percision Planning, Inc. Lawrenceville, GA
---

Created at Georgia's Stone Mountain Park in 1998 Team Sandtastic broke our own record set in 1996 in Galveston Island, Texas of 23'6 & 1/8"
---
Here it is.... the official confirmation letter from Guinness.
To read, click on it for a larger version...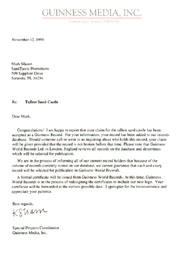 ---
Guinness rules state:
That you cannot use machinery like bobcats or front-end loaders.
[read: you've got to shovel ALL that sand by yourself !]
Your sculpture must be free of any wood or bracing upon completion.
Measurement is from the average grade of land prior to building (via professional surveyor.)
And that it must be made in under 100 sculptor hours.
---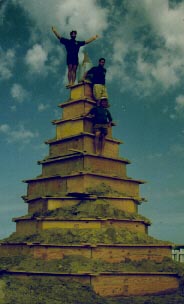 Guinness World Record attempts require an enormous amount of strenuous work.

Please... don't try this at home..
---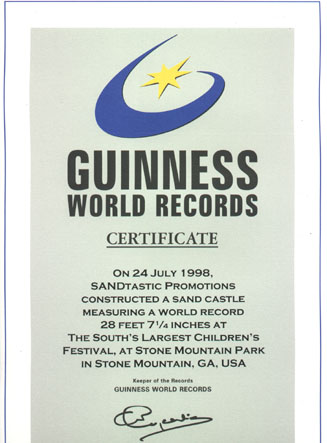 Here's what you get after all that hard work
[suitable for framing]
---
You can get quotes, date availability, and answers to sand sculpting questions via e-mail sent to:
or you can call
(941) 359-0868
or write to:
Mark Mason 509 Sapphire Drive Sarasota, Florida 34234-2720 USA
---
To return to our home page click on

www.teamsandtastic.com
---