Team Sandtastic
Professional Sand Sculptures
---
---- Recarves ----

Via our "Re-Carve Packages" Team Sandtastic has the ability to bring a displaying sand sculpture back to the performance art stage for a new life.
---
---
---
Here is a recarve from the reef scene to the Redwings Octopi.
Notice the same basic shapes of sand.
---
Sculptures can be completely re-carved or simply re-themed via small additions.
[ An example of re-theming would be to sculpt santa hats on characters. ]
---
One of the benefits of recarves is the fixed costs of the sand and sand box are already paid for.
---
Many of our recarves receive more media attention than the initial carve.
---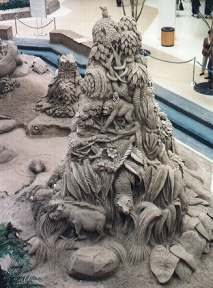 ------------------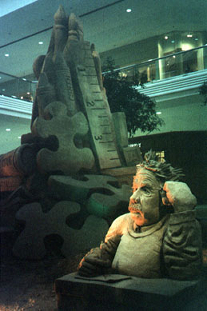 Our Rainforest sculpture was transformed into a Back-to-School sculpture of Knowledge icons.
---
---
You can get quotes, date availability, and answers to sand sculpting questions via e-mail sent to:
or call
(941) 359-0868

or write to:
Mark Mason 509 Sapphire Drive Sarasota, Florida 34234-2720 USA
---
To return to our home page click on

www.teamsandtastic.com
---