sand sculpture

Team Santastic
Professional Sand Sculpture
Do note... it's spelled Team Sandtastic.. with a "d"
---
---- Display Sculptures ----
Events range from our "Table-Top" sculptures on up to
Guinness World Records and 1500 ton "walk-through" sand sculptures.


---
The marketing value of Professional Sand Sculpture is that it is as much a performance art as it is a display art.
By accurately coordinating the timing of our logistics we achieve the maximum media splash.
---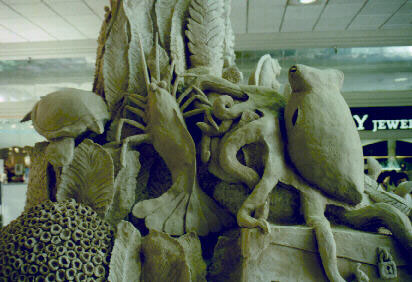 Under water themes are one of our specialties.

---
Try these links for a look at other themes, tonnage's, and display ideas...

Table-Tops
---

15 tons
---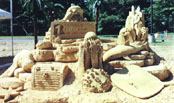 25 tons
---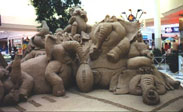 50 tons
---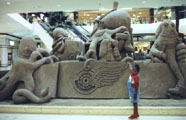 75 tons
---

100 tons
---

125 to 200+ tons
---
---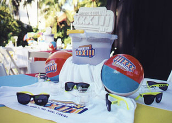 Miscellaneous/Guinness
---
---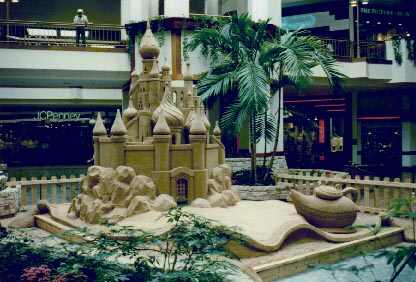 New movie releases are a great theme for sand sculptures.

Above is a photo of an "Aladdin's Castle & Magic Lamp" theme created out of 75 tons of sand.
---
Below is our event for National Geographic.
It was the World Debut of their first venture into IMAX films called Mysteries of Egypt.
Read what was said about it in Destination Cinema magazine.

---
---
We hope you enjoy your visit and
maybe something catches your eye and sparks an idea...
---
You can get quotes, date availability, and answers to sand sculpting questions via e-mail sent to:
or call
(941) 359-0868
or write:
Mark Mason 509 Sapphire Drive Sarasota, Florida 34234-2720 USA
---
To return to our home page click on

www.teamsandtastic.com
---